Just like there are Ethiopean, Indonesian, Brazilian, etc., there's also Vietnamese coffee which has a distinct flavor profile compared to the rest. It's typically rich with notes of chocolate, vanilla, and caramel, and all these come across as bolder flavors compared to other coffees. You may also have noticed that if you drink one cup of Vietnamese coffee, you feel more focused and alert than you're used to with other coffee beverages. So, why is that, and how much caffeine in Vietnamese coffee?
The Popularity of Vietnamese Coffee
Vietnamese coffee stands out from the rest with its strong flavor profile. Naturally, for people who want a strong, bold coffee, it's one of the beverages of choice, and it has grown in popularity in recent years. The popularity can also be related to the caffeine content since people often need higher caffeine content in the morning to snap themselves alert. An excellent assistant in brewing the right Vietnamese coffee can be one of the best thermal carafe coffee makers.
Also, the term Vietnamese coffee doesn't just relate to the brewing method like most other coffees. Instead, the beans themselves are sourced from Vietnam, with the roasting process being different from other coffees you can find in the U.S.
Notably, it wasn't always popular, with American coffee companies choosing to ignore it in favor of different kinds of beans. However, according to the  Wall Street Journal Trusted Source The Underdog Coffee Bean That Java Snobs Hate Is Finally Getting Some Respect Coffee geeks are trying to elevate scorned Robusta from the instant-coffee market to premium status. www.wsj.com , the situation seems to have started changing.
Also, despite not being as popular in the U.S. in previous decades, it was popular worldwide among coffee aficionados and even regular coffee drinkers. This is evidenced by the fact that Vietnam is the  second-largest coffee-producing country Trusted Source The World's Top Coffee Producing Countries In many cities around the world, there's a café on every corner, so it comes as no surprise that coffee is one of the globes' top commodities. www.visualcapitalist.com after Brazil. It even produced 29 million 60kg bags of coffee in 2020.
That said, most of this was sold as mass-produced instant coffees as well as in commercial coffee blends. More recently, single-origin Vietnamese coffee has started being used in American coffee beverages, and it seems to be gaining a foothold among coffee lovers.
Caffeine in Vietnamese Coffee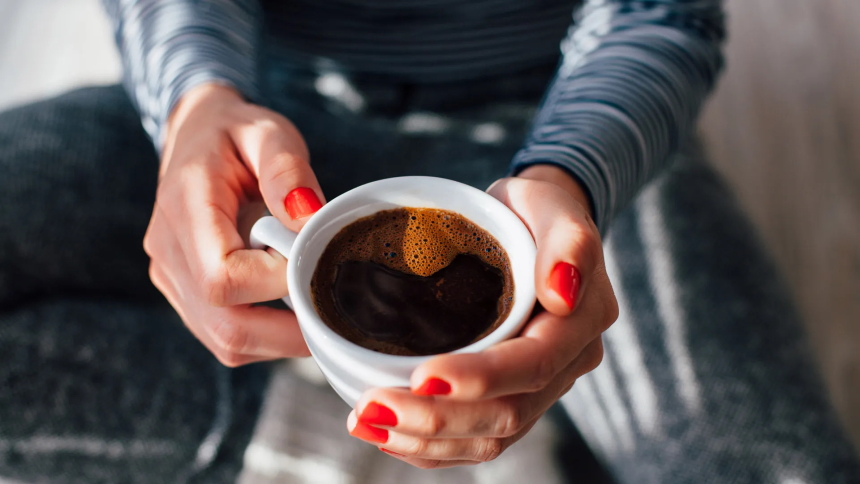 One of the things that differentiate Vietnamese coffee from what you find in most American stores and coffee shops is that it's Robusta, while the rest is likely Arabica or a blend. Arabica coffee has been popular over the past few decades since it's sweet to taste with nutty flavors, fruity notes, or a combination of the two.
In contrast, some people have described Robusta coffee as akin to burned rubber with its bitter taste. That said,  research Trusted Source Chlorogenic acids, caffeine content and antioxidant properties of green coffee extracts: influence of green coffee bean preparation Chlorogenic acids and caffeine are important for flavor formation as well as the health effect of green coffee brews and its extracts. link.springer.com shows that Robusta coffee typically has higher caffeine content than its counterpart. As such, if you brew Vietnamese coffee, it will have a stronger taste, and you won't need as many coffee cups to feel like yourself in the morning.
| | | |
| --- | --- | --- |
| Serving size | Caffeine Amount | Caffeine strength |
| 8 fl oz | 265 mg | MEDIUM |
| 12 fl oz | 398 mg | VERY HIGH |
Depending on the serving size of your cup, caffeine content varies. There is around 265 mg of caffeine in 8 fl oz of coffee and 398 mg in 12 fl oz.
Why is Vietnamese Coffee So Strong?
It is made with Robusta coffee beans with about twice as much caffeine as Arabica.
The fact that the beans are roasted for longer means the beverage has a stronger taste.
It's also brewed using a Phin filter, allowing more grounds to be steeped in water.
Is Vietnamese Coffee Stronger Than Espresso?
Before Vietnamese coffee came into the picture, espresso coffees were the go-to for someone who wanted bold flavors and high caffeine content. But how does it fare in comparison to Vietnamese coffee?
It's worth noting that the two beverages are wildly different right from the farmer. Espresso starts as Arabica coffee beans from Ethiopia, Brazil, Colombia, or any of the other Arabica-producing countries in the world.
On the other hand, Vietnamese coffee starts as Robusta coffee beans are grown in Vietnam. That said, there are some espresso coffee shops that will incorporate Robusta beans for a harsher, bolder taste.
As for processing, Robusta is roasted darker to eliminate some unsavory notes. However, this also results in the roast being bitter.
Also, dark roasts tend to be more porous, allowing for easier caffeine extraction. Since Arabica is often lightly roasted, extraction is not as easy as in Robusta coffee.
There are differences in the grind as well. The coffee is finely ground for espresso, while the dark roasted beans used for Vietnamese coffee are coarser. This also plays into how the two beverages are brewed.
For espresso, you need an espresso machine that brews the coffee under high heat and pressure. However, you use a Phin filter over a jar or cup for Vietnamese coffee. You then place the coffee grounds on the filter and add water while gravity does the rest.
With a high-end espresso machine, it'll only take a few seconds to complete brewing, while Vietnamese coffee can take up to six minutes. Ultimately, Vietnamese coffee should be significantly stronger than an espresso shot or even a double.
In fact, an 8 fl oz cup of Vietnamese coffee should have about 265 mg of caffeine, while a typical espresso shot has 63 mg of the same. As such, you'd have to drink four shots of caffeine to match the caffeine content of Vietnamese coffee.
Benefits of Vietnamese Coffee
Some of the advantages of Vietnamese coffee include:
Higher levels of antioxidants than other coffees lead to lower blood pressure and body fat.
You don't need to drink as many cups of coffee to stimulate your brain.
It limits scar tissue growth that may lead to fibrosis.
It has a richly robust flavor that some coffee drinkers love.
Increase in mental focus and physical endurance.
A faster metabolic rate should be a plus for anyone trying to lose weight.
Side Effects of Vietnamese Coffee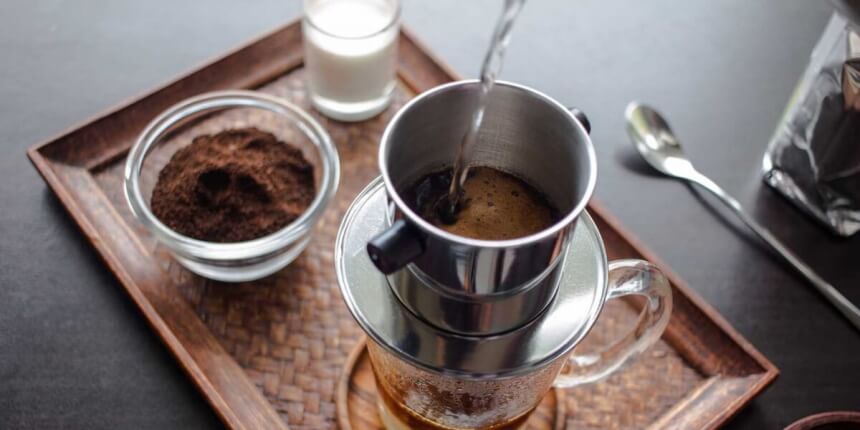 These are the side effects that you can obtain while drinking Vietnamese coffee:
Increased heart rate and restlessness;
Jittery hands;
It reduces appetite, which may be a bad thing depending on whether you're trying to gain or lose weight;
The higher caffeine intake may lead to  insomnia

Trusted Source

Insomnia

Have trouble falling asleep, staying asleep, or both? You may have insomnia, a common sleep disorder. Learn about symptoms, diagnosis, and treatment.

medlineplus.gov and sleep disturbances;
Higher levels of anxiety;
An increase in urine production leads to dehydration;
Dizziness if the caffeine levels are too high;
Headaches;
If taken for too long, it can lead to a dependency on caffeine.
The Vietnamese Coffee Flavors
Regarding flavor profile, Vietnamese coffee is a full-bodied roast punctuated by chocolate, caramel, and vanilla roasts. If you're a coffee enthusiast, you should also be able to tell it has low acidity levels and is fairly smooth.
Some have even described Vietnamese coffee as having a drinking chocolate-like flavor, a byproduct of being roasted for longer.
You can also get a sweet, creamy flavor by adding condensed milk to the beverage. Lastly, it's often served cold, so even if warm or hot water is used for brewing, most people end up adding ice to the beverage to cool it down.
Vietnamese Coffee Brands
Just like with other types of coffee, there are several Vietnamese coffee brands to choose from. They include:
Saigon Phin Daklak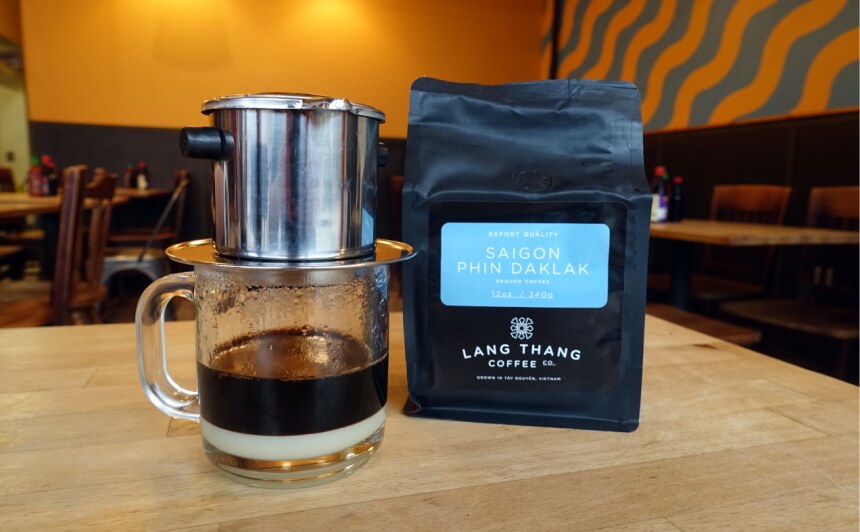 Saigon Phin Daklak is the signature blend of Vietnamese coffee from the Lang Thang Coffee company. It sources its beans from the Tay Nguyen highlands in Vietnam, and they're then roasted in Ho Chi Minh City, formerly known as Saigon.
The coffee is then imported to Cincinnati, and while Robusta coffee is the main ingredient, Arabica coffee, peaberry, and soybeans are also included in the blend. The result is a smooth, well-rounded flavor that works well for those who want something more mellow than regular Vietnamese coffee.
Café Du Monde
The Café Du Monde brand is based in New Orleans, with the original coffee stand having been established in 1862. Now it offers Vietnamese coffee with a bold, rich flavor, with the beans being sourced directly from Vietnam.
If you go to the café, the coffee is served black or a mix of coffee and milk in equal proportions. The beans are also French-roasted.
Phuc Long
This coffee is from the Phuc Long Coffee & Tea Company. Like the Lang Thang company that produces Saigon Phin Daklak, the Phuc Long Coffee & Tea company is based in Ho Chi Minh city. As such, it can also source its beans from the Vietnam central highlands.
Dalat Pea Berry Robusta
The Dalat Peaberry Robusta Vietnamese coffee brand uses native Vietnamese Robusta beans as a base before adding other coffee bean variants. These include Arabica, Excelsa, and Liberica. Both Excelsa and Liberica are pretty rare, with the latter only making up 2% of coffee production worldwide.
Trung Nguyen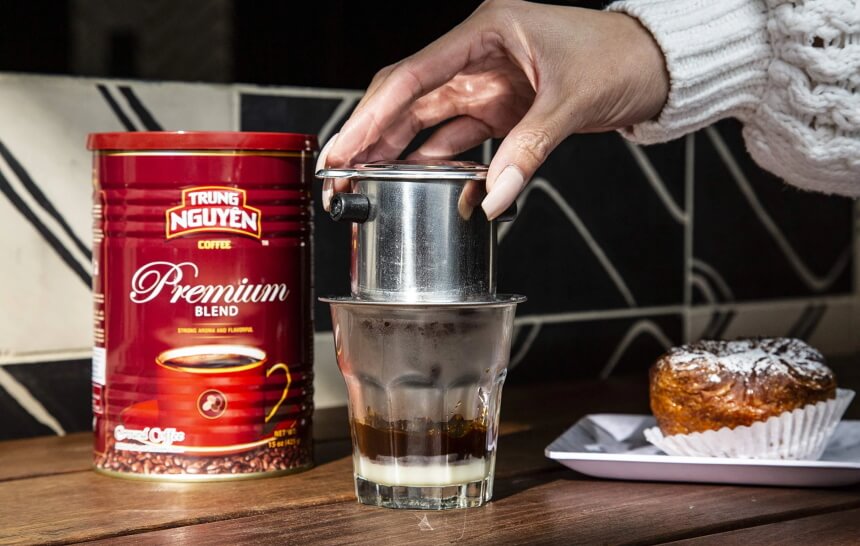 Trung Nguyen is the most popular Vietnamese coffee brand with a reputation for quality and rich flavor. This is made possible by a slight twist in Dalat Peaberry Robusta's formula. It includes Robusta, Arabica, and Excelsa coffee beans. However, instead of Liberica, Trung Nguyen uses Catimore coffee beans, a varietal of coffee made by crossing Timor coffee and Caturra coffee.
How Does Vietnamese Coffee Compare to Energy Drinks?
Caffeine content varies from energy drink to energy drink. The Monster energy drink, for instance, offers 10 mg of caffeine per fluid ounce. In a 16-fluid ounce can, this translates to about 160 mg of caffeine.
Conversely, Red Bull energy drinks have about 148 mg of caffeine content in a similarly sized can. This is significantly below what you'd get in a single cup of Vietnamese, so you might want to switch to Vietnamese coffee the next time you need an energy boost.
That said, there are other ingredients in an energy drink that help to give you energy, like glucose, sugar, citric acid, etc.
Is Vietnamese Coffee Stronger Than Pre-Workout?
So, how much coffee is in Vietnamese coffee compared to a pre-workout? According to  WebMD Trusted Source Pre-Workout Supplements: How It Can Benefit Your Overall Well-Being Find out how taking pre-workout supplements may help you work out. www.webmd.com , the average caffeine level in pre-workout ranges from 150 mg to 300 mg. it just depends on the brand and your dose. At the lower end, it doesn't have as much caffeine as Vietnamese coffee, but if you're using pre-workout with 300 mg of coffee, it's stronger than the coffee.
FAQ
What Is the Difference Between Vietnamese Coffee and American Coffee?
The main difference between Vietnamese coffee and most other American coffee is the type of beans used. Most Americans prefer Arabica-based coffee, while a select few like Robusta-based coffees like Vietnamese coffee.
Also, the difference in bean variations means differences in caffeine content, roasting processes, grinding, and even brewing methods. Lastly, there are differences in taste.
Is It Safe to Drink Vietnamese Coffee While Pregnant?
In the past, women were advised against drinking coffee while pregnant. More recently, experts have changed their stance on the matter, saying that little to moderate coffee and caffeine amounts should be okay.
As such, you can take up to 200 mg of caffeine daily if pregnant. The problem with Vietnamese coffee is that caffeine content is significantly higher than the 200 mg limit per cup. As such, it's best to avoid it and only drink regular coffee.
Is It Safe to Drink Vietnamese Coffee While Breastfeeding?
It's also generally safe to drink coffee while breastfeeding. However, you should also know that breast milk may contain traces of caffeine if you drink too much. As such, you should keep the caffeine intake at 300 mg or lower. This gives you just enough leeway for a single cup of Vietnamese coffee.
If you switch to regular coffee, you may be able to stretch that to two cups. That said, it's always important to consult your doctor before making such decisions. However, if you're unsure, you can just avoid all coffee forms during the breastfeeding period.
Why Does Vietnamese Coffee Taste Like Drinking Chocolate?
The reason Vietnamese coffee often tastes like drinking chocolate is the roast duration. Once it's dark roasted, most of the flavors will disappear, and what's left is a chocolatey flavor. Most other American coffees are light to medium roasted, which explains why some natural flavors are retained in the final product.
That said, most of the flavors in Robusta coffee are too much to handle for most people, which is why the beans are dark-roasted.
Final Thoughts
So, how much caffeine in Vietnamese coffee? It should be about 265 mg per cup which is more than enough for your morning pick-me-up. It's even more than you get in most energy drinks. Remember, the daily caffeine intake for adults is about 400 mg, so taking two cups of the beverage isn't a good idea.